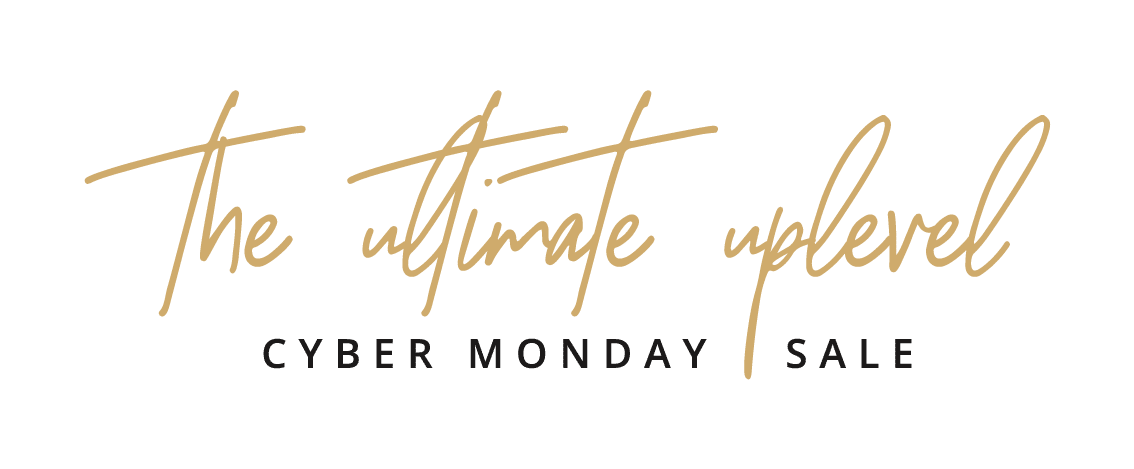 For Cyber Monday, I've put together a selection of discounts on my most popular offers to create the ultimate mix of support to help you uplevel your business and marketing for 2020. 
1:1 COACHING
CREATE YOUR 2020 MARKETING CALENDAR NOW
Every quantum leap in my business can be traced back to 1:1 support. Nothing makes up for that special thing that working with a coach or strategist gives you: context. 
That's why, for Cyber Monday, I wanted to make business coaching more accessible than ever before.
We'll start with a 1:1 coaching call over Zoom, then move to Voxer as you implement over the next 30 days.
Don't wait until January to get your 2020 plan in place.
This call will help you plan out how to be more visible and reach more clients using my signature Visibility Mapping Method, how to grow your audience, and how to create a launch calendar for 2020 so you already know exactly how you're going to hit your next income goal.
1:1 90 min private laser coaching call with Amber
1:1 private support via Voxer voice notes for 30 days
1:1 private accountability check-ins for 30 days
100% cash-back to redeem against my 4-month 1:1 coaching program
Pricing for 1:1 Coaching usually starts at £3980.
Now £297, exclusively for Cyber Monday. 
5 3 SPOTS REMAINING
FACEBOOK ADS
LET US BUILD YOUR EMAIL LIST FOR YOU
You know life would be so much easier if you had a big, engaged email list. More leads, more clients, more cash. 
Organic list building might be free but it's SLOW, and here's the thing, you already know you should probably be running ads. Every day you see new humble brag success stories that make you feel serious ads fomo. 
So, maybe it's time to let us build your email list for you!
We'll set up a custom campaign that's been thoughtfully created for your ideal client and designed to convert. We'll do all the heavy lifting then hand it over to you to manage yourself, so you're not paying for a a monthly retainer you can't afford yet. 
If you've been dying to get Facebook Ads running but up until now the investment has put you off, then this is perfect for you.
90 min List Building Strategy Call

Full tech set-up including Facebook Pixel + Custom Audiences

Custom Copywritten Facebook Ad Campaign

Custom Facebook Ad Graphics and Premium Stock Photos

Facebook Ad Set Up in the Ads Manager

30 Days of Facebook Ads Management + Reporting
Usually £800 and a 3 month minimum commitment.
Now a one-off payment of £397, just for Cyber Monday.
5 2 SPOTS REMAINING
QUIZ FUNNEL
GROW YOUR EMAIL LIST WITH A BRAND QUIZ
.The days of cheap-as-chips leads are NOT over, but it's a Quiz that will get you there. (I'm talking $0.10 kinda cheap)
A good Brand Quiz pre-qualifies your subscribers so you get high quality leads, elegantly segments your audience from the beginning so you can pitch them the exact offer they want and need, and is the most effective tool out there for growing your email list quickly. 
90 min Quiz Funnel Strategy Call

Full Quiz tech set-up including results pages + emails

Full Ads tech set-up including Facebook Pixel + Custom Audiences
Custom Copywritten Facebook Ad Campaign
Custom Facebook Ad Graphics and Premium Stock Photos
Facebook Ads Set Up in the Ads Manager
30 min 1:1 Follow Up Facebook Ads Q&A Call
Usually £1497, now £797 for Cyber Monday. 
Book now and save 46%!
3 SPOTS REMAINING
ACTIVE CAMPAIGN
SWITCH TO THE BEST EMAIL FUNNEL CRM ON THE INTERNET
Faster growth comes with elegant automation, and nothing does this better while still building genuine relationships with your audience than ActiveCampaign.
When it comes to email marketing and funnels, AC is the best priced tool out there considering how powerful it is. 
If you've been thinking about migrating to ActiveCampaign but can't bear the stress of starting from scratch (perhaps for the third time) then this is perfect for you. 
60 min Email Marketing Strategy Call with our in-house AC Expert

Full account migration to Active Campaign
Email funnel + sequence set up
Opt-in form set up and integration
Full account testing and troubleshooting
30 min Follow-Up Q&A Call
Usually £247, now £97 for Cyber Monday.
Book now and save 60%!
5

1 SPOT REMAINING!